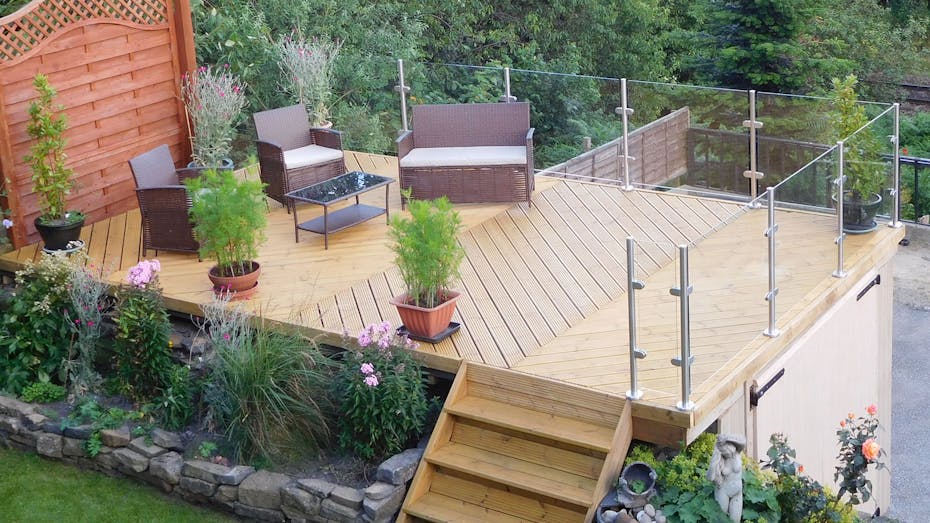 Contemporary stainless & glass balustrade install
Mr & Mrs Pogson had created a raised decking area above an existing garage that has some fantastic views and catches the sun until late into the day. Their initial thoughts were rather than go for the old traditional wooden 'spindle' type handrailing, have something more modern and stylish. They chose to have a stainless steel and glazed type of system to finish off this area.
After searching for ideas on the internet for stainless steel and glass balustrade they found
Global Walkway Solutions and called to discuss their project and requirements.
We met with Mr & Mrs Pogson to discuss the project further and based on their requirements we put forward some ideas utilising our architectural stainless range and offered various options. We offered the choice of with or without tube top rail and tube diameter 42.4mm or 48.3mm to use on the project.
Through this consultation process it was decided that we would use 42.4mm architectural stainless in grade 316 (outdoor use) and a glass balustrading system but with NO tube top rail to break/interrupt the view as this would help to keep a more minimalistic open type of vista they wanted to achieve.
We took all necessary measurements and calculated the required materials. We then submitted the quotation to Mr & Mrs Pogson which was shortly agreed upon, after which we implemented an agreed plan of action.
We recommended that some extra substantial supports needed to be fitted to the underside of decking to accommodate upright posts prior to our installation. This was subsequently done by Mr Pogson who by trade is a joiner. Meanwhile we would issue materials and begin workshop fabrication for upright posts and all other necessary components.
Swiftly following the preparation work, our team commenced with installation of the upright posts to the area. Once these were in place we could get the exact sizes required for the glass infill panels, the glass could now be ordered for manufacture.
Just over a week later, once the glass was manufactured, the installation team returned to site to fit the glass using glass clamps and complete the installation.
Mr & Mrs Pogson were delighted with the end result, commenting that they look forward to many family parties on there enjoying the view and in particular it would be a good viewing platform to the lower garden area where once a year they have a big bonfire and firework party!