| | |
| --- | --- |
| Buy 20+ | save 5% |
| Buy 50+ | save 10% |
| Buy 100+ | save 15% |
Stairtreads manufactured from our open steel forge-welded gratings range. We manufacture 800mm(wide) x 275mm or 290mm(deep) and 1000mm(wide) x 275mm or 290mm(deep) produced from 25x5 41/100 type flooring with octopus type nosing edge bar in a Galvanised Finish.
Product overview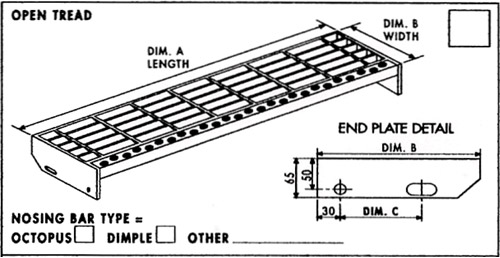 Note - 'Open' type stair tread end plate holes are 14dia. and 14dia.x40mm slot.
Available Options/Sizes:
Stairtreads
25x5 '41/100' 800mm x 275mm Galvanised Finish.
25x5 '41/100' 800mm x 290mm Galvanised Finish.
25x5 '41/100' 1000mm x 275mm Galvanised Finish.
25x5 '41/100' 1000mm x 290mm Galvanised Finish.
Stairtreads can be produced from all the types of flooring products and to any size.
Specification
| | |
| --- | --- |
| Open Steel Grating Size | |
| Finish | |
| Material Type | |
| Bar Arrangement(Pitch) | |
| Serrated Flat Bars | |
Delivery
We will endeavour to ensure that all orders are speedily processed. Our 'Next Day' delivery service operates for UK mainland customers against standard stocked items.
Shipping and packing charges: The maximum you will have to pay for the largest UK mainland order is £70.00(+VAT) for a pallet between 500 Kg and 1 Tonne.
The lowest you will pay for the smallest UK mainland order is £10.00(+VAT).
European and International Orders Parcels(typically up to 100Kg) to Europe will be shipped by DPD Parcels and larger orders or pallet orders may need to be priced on application.
Our Money Back Guarantee Please be assured that all items ordered from us are fully guaranteed and if for any reason you are not completely satisfied you can return the item to us for a full refund if returned as sold.
Exchange Of Goods If you order incorrectly, and it turns out to be the wrong fitting/size etc. you can return the item and exchange it for the alternative goods of your choice (Please keep and send back in the original packaging).
Returns
At Global Walkway we want you to be completely satisfied with your purchase every time you shop with us. Occasionally though, we know you may want to return items, so below is our returns policy:-

If for any reason you are displeased with your purchase, you can return it to us in its original condition together with a covering letter including full contact details, within 28 days and we will organise a refund accordingley.
If you are returning an item because of an error on our part or because it is defective, we will refund your costs in returning it to us. Otherwise you will be responsible for those charges.

This returns policy does not affect your statutory rights.